Energy conservation is the way to save money as well as electricity that ultimately saves our earth too. It's becoming a trend of switching to energy efficient appliances.
In major part of India, where longest season is summer so consumtion of electricity is much higher during this season. And requirement of fan in every household is essential, although AC's are there but, it's power consumtion is much higher. So, having fan's in every rooms are highly appreciated compared to AC's due to it's low power consumtion. But, do you know your fan which runs on induction motors still consumes 75-80 wattage of power?
What is Energy efficient Fan?
Simply, a fan that runs on energy efficient motors that consumes less power. Innovation of BLDC motor technology has dropped the power consumption. Considering BLDC motor-powered Atomberg fans (Check price on Amazon ) consumes 28W of energy is one of energy efficient fan in india.
Why BLDC motor powered Atomberg fans (Check price on Amazon)?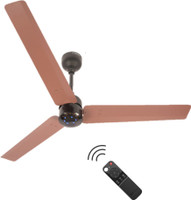 Atomberg Renesa 1200 mm BLDC Motor with Remote 3 Blade Ceiling Fan(Matte Brown & Black, Pack of 1)
Features :- Type: Ceiling Fan Motor Speed: 340 RPM Power Consumption: 28 W Blade Sweep Size: 1200 mm Air Flow: 8122 cfm Number of Speed Settings: 5 Material: Aluminium SUPER ENERGY EFFICIENT BLDC MOTOR: Consumes only 28W at the highest speed. Save up to Rs 1500 every year on your electricity bill. Runs 3 times longer on an inverter battery as compared to an ordinary fan. INVERTER STABILIZATION TECHNOLOGY: Runs consistently at the same speed even with fluctuating input voltage between 140-285W. HIGH SPEED & AIRFLOW: Powered by the atomSENSE algorithm, the Renesa operates at speeds upto 340 RPM and delivers air at the rate of 230 CMM. SMART REMOTE: 3 smart features - Boost mode, timer and sleep mode to provide you the best experience. Change the speed of the fan at the click of a button, NO REGULATOR REQUIRED. 2+1 YEAR ON-SITE WARRANTY: Atomberg Renesa comes with a standard one year warranty. Additional one year warranty can be availed by registering your purchase on the Atomberg website.
Buy @Flipkart:Rs.

3576
| BLDC motor-powered Fan | Outdated induction motor Fan |
| --- | --- |
| Consumes only 28W of energy | Consumes 75-80W of energy |
| Noiseless operation | Humming noise |
| No heating that ensures longer motor life | Enormous heating losses |
| Intelligent electronics & AtomSENSE algorithm | Failures in bearing and copper windings |
| Smart Remote control | Dependency on external capacitor and regulator |
| Consistent output even with fluctuating input voltage | Non-consistent output |
| Runs 3 times longer on an inverter battery | No compatibility with IoT(alexa, google home): plain mechanical devices |